There are so many beautiful new picture books about trees — how does one choose?  Here are some to consider…
"The Things I Love About Trees," (Candlewick, 2/18) is a gorgeous book that shows children celebrating the four seasons of trees.  It's an ingenuous story with lovely illustrations.  Adjacent to the main text, the author includes in small print some interesting factual information.  Featured inside the front and back covers are depictions of various tree's distinctive leaves.  This is a delightful picture book.
"Everything You Need for a Treehouse," (Chronicle, 4/18) lures you into a land of nature and imagination.  The book begins, "Everything you need for a treehouse starts with time and looking up and imagining a home of timber and rafters in wrangled, gnarled bark."  It is a special story with engaging illustrations.  This picture book is a great read-aloud that will inspire your child to dream of their own treehouse.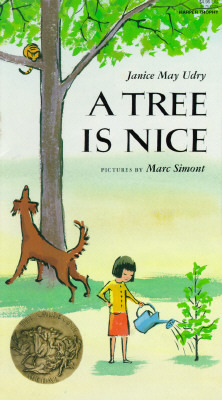 I cannot leave out my personal favorite — a very old classic — and a Caldecott medal winner.  "A Tree is Nice," (Harper Collins, 1956) is a very simple story about the everyday beauty of a tree.  "Trees are very nice.  They fill up the sky."  You can climb on trees, or pick an apple off one, or hang a swing on one.  The delicate pictures are beautiful and sweet.  It's an old fashioned treasure that leaves one happy with every reading!